Sculptural Ironwork
For further information, contact:
randhunt@wildapache.net
---
Coffee Table
Commissioned for a private residence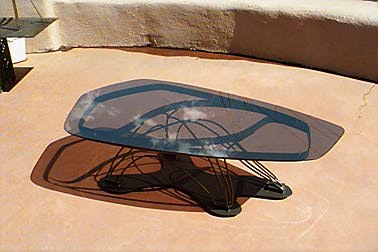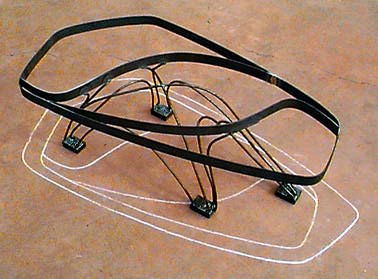 Shot during construction. The top is hand bent steel strap, 1/8" x 1-1/2"; the base is 5/16" rod. The table measures about 22" x 42". The outer white outline on the ground marks the glass top to be furnished by the owner.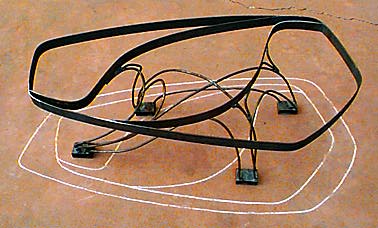 ---
Front Door Gate
The Surgeon's House Bed & Breakfast, Jerome, Arizona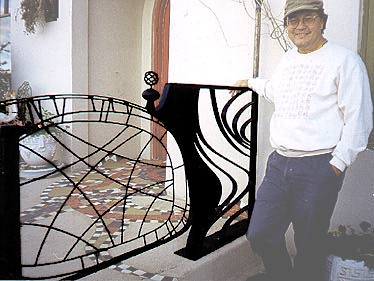 This gate was designed to complement an existing faux mosaic at the front entrance. I was asked to create a form that was distinctively feminine and erotic. The work is fabricated from steel bar and round stock, all hand formed. The left section swings in; the right section is fixed. I've ghosted the photo to emphasize the gate against a visually busy background. I'm not as pale in person as I appear here.
---
Garden Stair Railing
The Surgeon's House Bed & Breakfast, Jerome, Arizona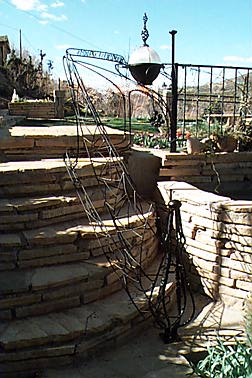 Difficult to see against the flagstone, the railing is made from 5/16" round steel rod. Each piece was hand formed to match the existing lines of the stone steps. The railing is supported only at the base and at the existing railing above. There is no support in between; it is entirely self-supporting due to the way the pieces hold themselves in tension as a unit.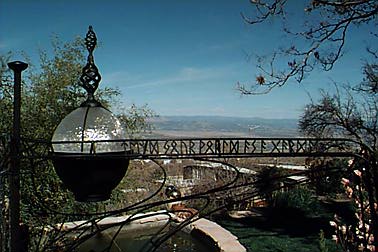 Detail of light fixture and inscription. The fixture was an antique street lamp, here turned upside down and fitted to the railing. The view is across the Verde Valley toward Sedona, some twenty-odd miles away. Such a magnificent view gives one pause to reflect on the immensity of the Arizona landscape and one's place in the world. The inscription was inspired by this environment and is rendered in Germanic runes. It transliterates, "Tend your world as a garden".
View looking east across the Verde Valley
---



Return to Home Page